One week. That's all it takes to overhaul your lifestyle, unlock your full potential and reach your fitness goals...
Someone profound once said, "Do what you love and you'll never work a day in your life" and, well, as cliche as it sounds, we don't work. Ever. Instead, what' we've done since 2008 is pursue our passion, help our clients unlock their full potential, prove their bodies are capable of so much more, show them the power of the mind, motivate, educate and inspire, fuel their fitness goals with the most nutritious meals and then present them with everything they need to take their No1 Bootcamp experiences and apply them to their normal lives. That's not work; that's a privilege and the reason we take so much pride in helping people on their fitness journeys, whatever their reasons.
That's the reason we've had the chance to help thousands of people chase their fitness dreams; people from all over the world. We train together, eat together, explore, laugh, sweat and cry together, everyone supporting those around them to keep at it. Being a part of that atmosphere – where optimism, effort and camaraderie is the vibe every day – that's why we love what we do so much.
But of all the reasons we wake up with a smile on our faces, ready to get at it, we love nothing more than seeing the happy faces of returning clients walk through the doors of our retreat. So it was nothing short of amazing to welcome the amazing Georgia Harrison back to No1 Norfolk for another week of sweating, laughing, training, exploring, escaping and, well, health, wellness and fitness.
And the results are amazing: in just one-week, Georgia lost an incredible 5lbs of visceral fat, leaving her feeling happier, healthier and more confident. Oh and, let's be honest, she looked incredible from start to finish. Get ready for a sneak peak at Georgia's week at No1 Fitness Retreats: Norfolk.
The Workouts
Battle Rope Workout
Chances are, jump ropes have been in your life since you were snacking PB&J sandwiches and slurping on juice boxes as a child. But there's an even more badass kind of rope that will have you smashing your fitness goals: battle ropes. But while they may vary in length, weight and thickness, every battle rope serves the same purpose: to provide a killer full-body workout. Yepp. They'll work your muscles like never before.
We're talking about strengthening your abs, arms and shoulders, engaging your legs and conditioning your entire body. And because the motions involve waving, lifting and whipping these ropes, it doesn't strain your body. Basically, it's the secret to fitness success as they work every muscle group simultaneously, allow freedom of movement, boost your aerobic capacity and, best of all, can be catered to every level of fitness.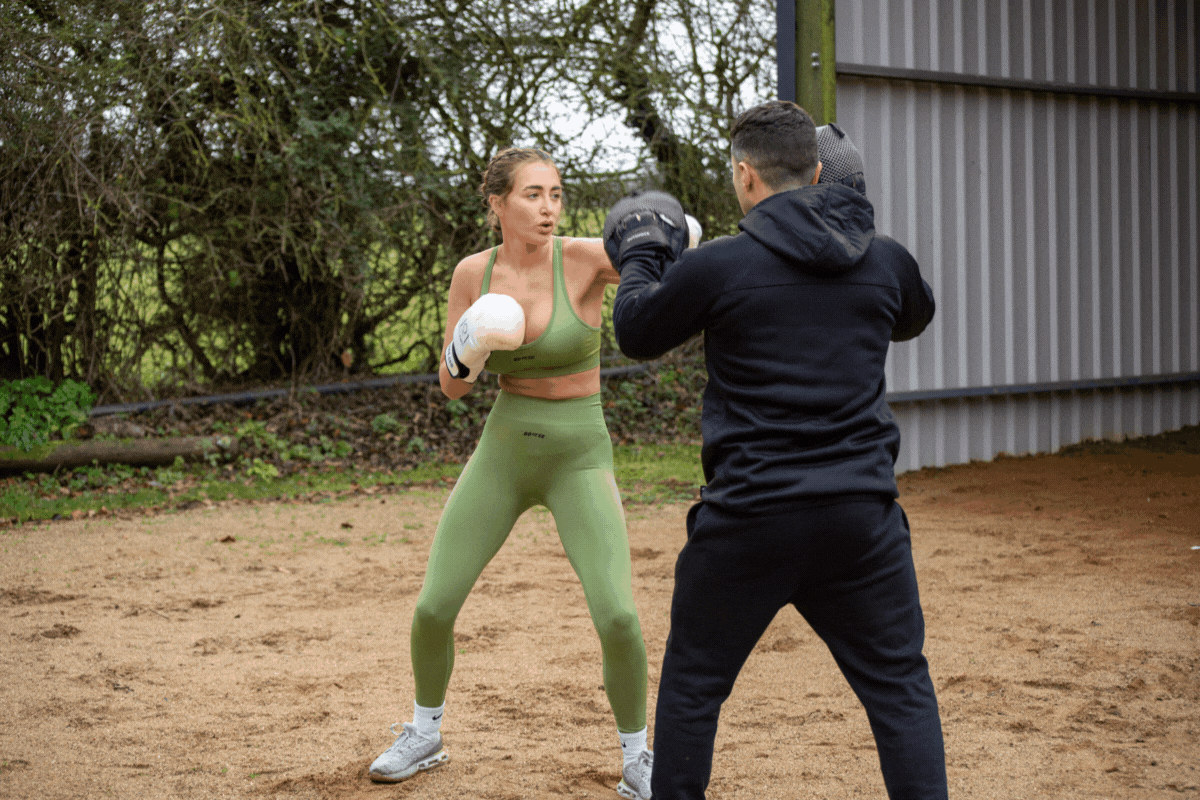 Cardio Boxing Training
There's a reason boxing is all the rage right now: on top of letting out all your pent-up feels, it also provides you with an epic all-body workout. Targeting everything from your core to your arms, your biceps to your brain, our boxing sessions are designed to improve your fitness levels, stamina, strength, body composition and your self-confidence. But while the baseline focus is cardio and conditioning, our team of world-class trainers have developed bespoke workouts that will help you build endurance, stamina, agility, strength, speed and coordination. Then, once you have that down, it's all about working on your technique as you up the tempo.
Reasons To Row, Row, Row
Once upon a time, you could walk into any gym and almost guarantee the rowing machine would be free as everyone else waited in line for the treadmill, ellipticals and bikes. But not any more. That's because hitting up the rowing machine is a total-body workout that targets so many different muscle groups. In fact, rowing is 65 percent legs and 35 percent upper body, meaning you'll strengthen your upper back, pecs, arms, abs and obliques, as well as your quads, calves and glutes.
But the good news doesn't stop there. No way. Our rowing sessions are the perfect low-impact workouts that can be customised to every fitness level, reducing body fat, increasing strength and improving flexibility. And it's not just about boosting your muscle mass. It's great for your heart and lungs too, while the smooth, repetitive steps of the row stroke are an incredible way to get those endorphins flowing, boosting your mood and kicking stress to the curb.
Personalised Circuit Training
Combining cardio and strength training exercises to create the most effective and efficient workouts, our circuits involve rotating between several exercises that target different muscle groups with minimal rest in between to give you a full-body workout. Of course, each one is designed to be different in order to meet different goals, workout different parts of the body and achieve different results.
That said, they are all made to help you crush your fitness journey by improving muscular endurance, increasing strength and muscle growth, reducing your visceral fat, keeping you engaged and achieving the best results in the shortest amount of time possible.
The Diet
If you remember one thing about fitness, make sure it's this: you can't out train a bad diet. But before you start imagining Georgia was on a strict diet of lettuce leaves, celery sticks and detox juices, rest assured that's not how we do things at No1 Bootcamp. There's no calorie counting or serving meals that show more plate than food.
Instead, our team of nutritionists and expert chefs champion the science that fitness begins in the kitchen, so all of our food plans are created with optimal fat loss and muscle creation in mind, offering up a healthy balance of all macro and micro food groups to sustain energy, provide optimal nutritional value and boost exercise performance. As such, Georgia was treated to a diet of delicious meals that was tailored to her metrics, goals and body in order to optimise her week with us.
This is because our main focus is on exercise and wellness, which is why it's so important for us to understand what your body needs to be adequately fueled for you to achieve maximum results. And to encourage the same commitment to healthy eating when you leave, we have a recipe book you can take home with you or, better yet, our award-winning No1 Food Prep, which delivers your chosen meals directly to your door.
Georgia's Results
One week. That's all it took for Georgia to lose 5lbs of body fat and 6.5lbs in total, the result of escaping to our all-inclusive retreat on the North Norfolk coast where daily walks, daily structured workouts, motivational instructors, individually tailored macronutrient meals, relaxation and shared experiences are the focus.
To watch Georgia's video about her stay at No1 Bootcamp, and see exactly what she got up to during her week with us, simply click here.
Thanks for reading. For more information, fitness tips and nutrition tricks, follow us on Facebook and Instagram.